Construction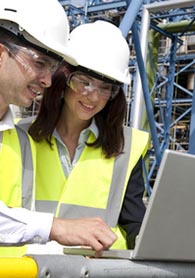 Accreditation Process
You may be asked for a wealth of paper evidence during a sub-contractor approval process, i.e. Safe Contractor, Exor, CHAS, Constructionline, SAMAS, to prove that you are complying with current Health & Safety legislation. If this is becoming a problem for you, get in touch – we can help!
CDM Co-Ordinator
We have proven experience in providing the CDM-C role for a wide range of projects of varying size and complexity. CDM-C's must be appointed for projects likely to involve more than 30 days or 500 man days of construction work.
Asbestos
We can help to identify asbestos in the workplace with Management, Refurbishment and Demolition Surveys as well as Managing Asbestos training packages for your empolyees.
Competent Person Packages
Our 'Competent Person' service package can be tailored to meet your needs and budget. We can provide Health & Safety advice and support service to businesses that do not currently have in-house safety advice with our Competent Person service packages.
Risk Assessments
COSHH Assessments
Safe systems of Work
DSE Assessments
Safety Audits/Inspections
Company Policies and Procedures